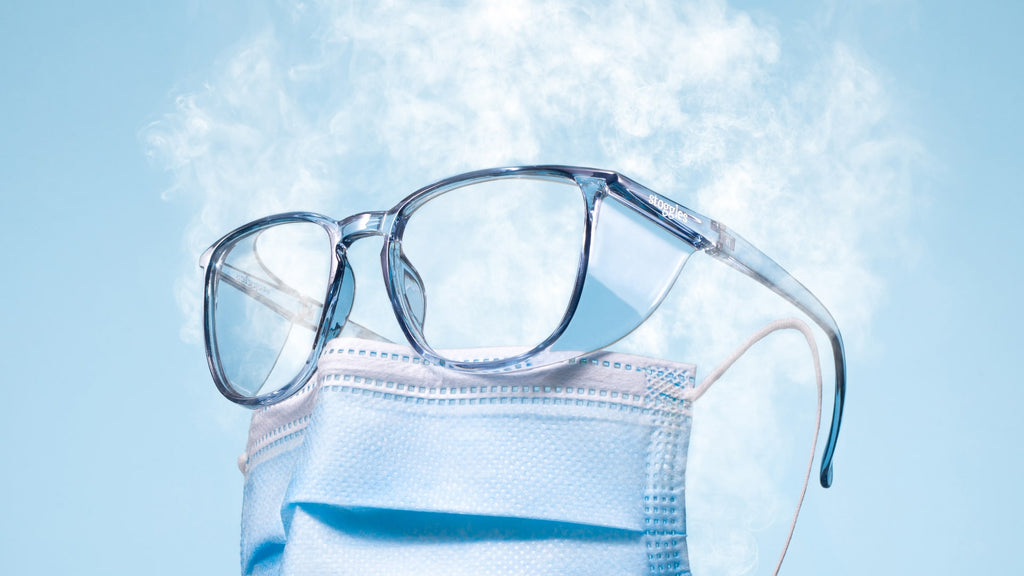 Nursing students, rejoice. Unlike the clever memes your friends keep sending you, we aren't going to tell you that the next few years of your life will be hallmarked by stethoscopes, coffee, and credit card debt. Instead, we're going to give you the facts. 
We'll tell you what you really need for school, give you some surprising statistics on work-related hazards you might not be familiar with, and give you immediate access to the most stylish PPE eyewear you can find. 
Grab a coffee-er-a water, and enjoy this seven-minute study break read. 
Nursing School Necessities 
Whether you're working on a two-year or a four-year degree, there are some items you'll want for nursing school that you simply cannot live without. It goes without saying you're going to need items like a stethoscope and a medical watch. In fact, you probably already own those. These items are must-haves that will make your student-nurse life just a little bit easier. 
1. Seriously Comfortable Scrubs
Don't forget scrubs to match (or not to match). The number of scrubs you need can vary, but you're likely good if you have at least one more set than the number of shifts you have in a week. Five shifts? You need at least six sets of scrubs. 
Scrub fabrics should be light/medium weight variations, including cotton, polyester, rayon/viscose, and similar, with cotton being the most popular. Right now, the most popular brand is FIGS, with soft, wrinkle-free fabric that fits loosely but isn't baggy.
2. Seriously Supportive Shoes
We know your Uggs are uber trendy, but trust us when we say that they are no match for a 12-hour shift. Sadly, even your favorite running shoes may not be able to give you the support you need. 
Many nurses prefer super supportive brands like Clove, FIGS x New Balance, Gales, or Dansko nursing clogs. The more padded the footbed, the better. Having comfortable shoes will translate into happier feet, knees, and hips and will allow you to be on your feet as much as you need without as much swelling. 
2. Safety Eyewear
Sure, you know you need to wear protective eyeglasses when you're drawing blood, but as a nurse, you're exposed to more eye-related injuries than you realize. You need protection that you can feel comfortable wearing all day. The moment you remove your safety eyewear, you put yourself (and your vision) at risk. 
These aren't your middle school eyewear. Protective eyewear has come a long way since some students last paid attention to it. Medicine is always advancing, so why hasn't eyewear?
Lucky for you, you found Stoggles. Stoggles are the hybrid eyewear that keeps you safe, comfortable, and seriously stylish through your shift and beyond. 
Stoggles is especially great as it is an evolution of safety glasses/goggles and is a game changer in the healthcare space. Stoggles are at the forefront of medicine — just like you. 
Other things to add to your chart?
We offer prescriptions in-house, making it seamless, easy, and affordable to see things clearly.
Stoggles are water-proof and easy to clean/sanitize with alcohol wipes.
With tons of colors and styles, you can match your specs to your favorite scrubs.
3. A Laptop That Doesn't Make You Crazy
The same laptop you've been using to pay bills or shop online may not cut it for nursing school. If your computer takes too long to boot up, frequently crashes, or doesn't have much memory, you'll likely end up tossing it out the window. 
Our recommendation? No less than 8 GB of RAM, 256 GB of storage, and a medium to a high-speed processor. 
4. Massage Gun
Trust us on this one. Your calves, low back, shoulders, basically everything will thank you. A massage gun is portable and can even be packed in your nursing bag for long shifts. On breaks, after your shift, or whenever you feel a muscle attempting to cramp, whip out the massage gun and let the pulsating waves work their magic. 
If you don't want to spring for a massage gun, consider a low-back massager that you can use when seated in a chair. Your lower lumbar will thank you when you end your shift with fifteen minutes of massaging goodness. 
4. A Voice Recorder
Those lectures get long, and you're studying late. It's common to miss something important that your professor said. With a voice recorder, you can capture the entire class and review it later to make sure you didn't miss anything. This is a valuable study tool that also helps on the job. 
You'll need to check with your employer to ensure you don't violate patient privacy laws or your workplace standards, but if you can use a voice recorder when taking patient histories, it can help you with charting later in your shift. 
On the Front Lines
A term you'll quickly become familiar with while in school is BBFE. This stands for blood and body fluid exposures. These exposures are extremely common in acute care settings, like hospitals and medical offices. 
Nurses are the number one target for these types of exposures, and between 50%-60% of these exposures involve blood. Here's where it gets even more concerning. More than 83% of these exposures occur to a nurse's face, and 33% of these exposures happen to the eyes. That means that as a nurse:
You are most likely to be exposed to blood and bodily fluid,
There's a high probability that the exposure will come in contact with your face, especially your eyes. 
It's more of a matter of when you'll be exposed, not if.
All those in favor of not having your patients' blood in your eyes, please raise a hand. The problem is that these exposures happen because nurses aren't wearing their protective safety eyewear. About 90% of these work-related eye injuries are completely preventable simply by wearing a pair of properly fitting protective eyeglasses. 
We'll give you the specs you need for safety eyewear and explain why each feature is important for a nursing student. 
Eyewear for Every Shift
Your eyewear is important, and it will keep your eyes protected from splashes, spills, splatters, and the rogue combative patient. Here are the features we recommend for every pair of protective safety glasses:
ANSI Z87.1-2020 Certification
The American National Standards Institute works directly with OSHA to develop and implement safety regulations across multiple industries, including the healthcare industry. The ANSI Z87.1-2020 certification ensures your eyewear meets safety standards to protect your eyes against shattering. 
You might not think this is incredibly important, but if you have a patient who is seizing or has become combative, you'll appreciate having that layer of protection between them and your eye sockets. 
Side and Top Shields
If you are not required to wear safety goggles, wearing eyewear with side and top shields is a great idea. Your regular eyewear leaves your eyes vulnerable at the eyebrows and across the temples. Top and side shields protect these areas with streamlined, clear pieces that are comfortable and low profile. 
Wraparound models protect the temples, but some of them can interfere with prescriptions if you need corrective lenses. Unless you find a perfect pair designed for your face, it's not surprising that wraparound pairs tend to run large: This means you might have gaps under your eyes and between your temple and the frame. 
Anti-Fog Lenses
Wearing a mask in a healthcare setting can create fog on your glasses. Even if you have a very good, perfectly fitting mask, your breath will naturally rise up from your mask and attempt to fog your glasses. 
Anti-fog lenses stop fog in its tracks. Stoggles, for instance, have been dipped in anti-fog coating to ensure that your fog protection lasts for a really long time. All anti-fog lenses will need replacing at some point, but Stoggles offers anti-fog protection you can depend on without having to remove your glasses to wipe them down.
We spent nine months on our unique dip formula that's more comprehensive and longer-lasting than the spray solutions. You might even call it a labor of love.
UV Protection
Unlike wearing sunglasses, which are tinted and hard to wear indoors, Stoggles are made from crystal clear polycarbonate material, which is naturally UV blocking. 
Whether you're exposed to UV rays indoors or outside on your lunch break, your eyes will be protected when you're wearing your Stoggles. 
Blue Light Blockers
You're going to be exposed to blue light as both a nursing student and as a full-time nurse. Blue light is a short-wave, high-energy light source that is similar to UV rays. Blue light is emitted from the sun and from devices like laptops, tablets, smartphones, computers, LED televisions, and LED light bulbs. 
Because your exposure to UV light is consistent, it's important to protect your eyes. Blue light, like UV light, can penetrate your cornea and reach the retina. We aren't yet sure what the long-term effects of blue light exposure are. Although, we do know it can dramatically impact your sleep — something you absolutely cannot afford as a nursing student. 
Prescription Friendly
If you wear corrective lenses, you'll probably be tempted to avoid wearing safety glasses or goggles over your regular eyeglasses. We don't blame you. No one wants to be called "Six Eyes" or deal with the discomfort of having two pairs of glasses strapped to their face. 
If you need corrective lenses, just upload your prescription to our website, and we'll take care of the rest. We'll customize a pair of Stoggles with your prescription so you can see clearly and protect your eyes while you're working. 
Style and Comfort Matters
We understand the need for safety and style. Just like wearing comfortable, stylish scrubs became a trend through companies (like FIGS) that provided more options than had been previously available, Stoggles offers modern options for protective eyewear that doesn't give off mad scientist vibes. 
Our eyewear is available in trendy frame shapes like cat-eye and aviator, and in so many colors you can literally match a new pair to every pair of scrubs. And why shouldn't you? You'll be spending a lot of time wearing your safety eyewear. You deserve to have an option that is comfortable and makes you feel good. 
Oh, and did we mention that they're as comfortable as your favorite FIGS scrubs? Because if your specs aren't comfy, you won't wear them. And then, when that surprisingly strong toddler chucks their legos at you for trying to take their temperature, your eyes are in the front line. 
Paging Stoggles
Your life is about to change dramatically. Nursing school will be a challenge, but it's one you are ready to tackle. Don't show up to class or clinicals unprepared. Make sure you've got everything on your list, and pack an extra pair of Stoggles. Your eyes will stay safe, and you'll be the envy of your fellow nursing students. 
Sources:
Splash safety—Protecting your eyes, Part I
Definition and Description of Acute Care Hospitals | OHS
ANSI/ISEA Z87.1-2020: Current Standard for Safety Glasses | ANSI