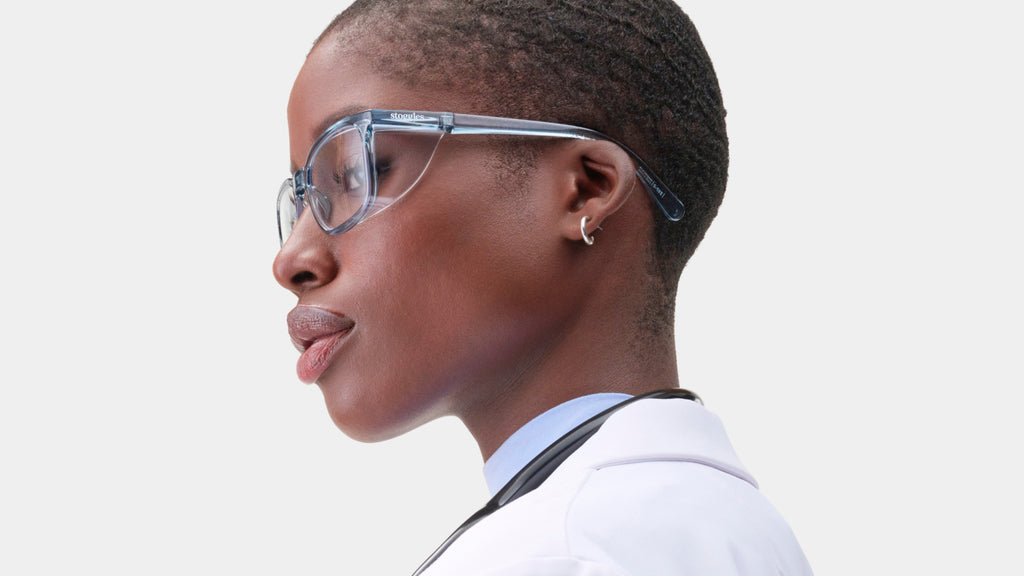 You've probably never seen window washers scale a high rise without their safety harnesses, but even though your employer gave you safety equipment, you don't think you need it. We get it. Sometimes safety risks don't seem as risky as they really are. 
Regardless of how hazardous your work environment may or may not seem, proper PPE use is important for your safety and the safety of others around you. The PPE experts at Stoggles are here to bring you the cold, hard facts about different types of PPE and why proper use of it is so critical. 
What Is PPE?
PPE is short for personal protective equipment. It's essentially a catchall term for types of protective gear you wear on your person to keep you safe on the job. PPE can include:
Hearing/ear protection like over-the-ear headphones or earplugs 
Head and face protection like face masks, face shields, and hard hats
Protective clothing like reflective vests, belts, pants, gowns, gloves, or steel-toed boots
Eye protection like safety goggles and safety glasses
Respiratory protection like respirators
Depending on your job, you may be required to wear some or all of these, but we promise your employer isn't trying to ruin your life (or your style) with a heavy load of PPE.
The Importance of PPE: 3 Reasons You've Got to Have It
If you're like us, you aren't convinced of something until you see the data. Lucky for you, the data geeks at Stoggles have compiled evidence about the use of PPE in the workplace. Spoiler alert: It's all very pro-PPE. 
1. The Statistics 
In 2021, the National Safety Council reported more than 4,000 preventable workplace deaths. This number averages out to about 3:1 people per 100,000 workers. The number had increased from the previous year. 
In terms of injuries that didn't result in death, more than 4,000,000 resulted in an injury that required medical attention. Medical attention includes doctor visits, trips to the emergency room, and acute medical care. 
The most hazardous jobs were in construction, transportation and warehousing, and agriculture. Those may seem pretty obvious, but you might be surprised to know that office and administrative jobs also made the top 10 list. The takeaway: There's a risk in every industry, not just on construction sites. 
2. Results
If you are injured at work, the injury could lead you to missed days, the loss of your job, missed pay, and unexpected medical bills. Those are the best-case scenario situations. Worst case scenario: you lose a limb, your hearing, your vision, and your ability to work or enjoy the things you love.
It's been said you can take whatever action you want to take as long as you're willing to pay the price for said action. In this case, the price for not using appropriate PPE is simply too high. 
3. It's The Law
Occupational safety isn't just smart. For many industries, it's the law. If your employer has provided PPE to you, it's for a reason. There's a workplace hazard, and wearing your PPE could literally save your life. 
Not wearing your PPE could result in fines against your employer and could result in unwanted questions about your accident. In addition, forgoing your PPE could start an unwanted trend with your coworkers and could even place them at risk. If you have an accident due to not wearing your PPE, there's a chance others could be involved. 
What Do You Need?
Your employer works with OSHA to determine what is necessary for PPE. OSHA works with the American National Standards Institute (ANSI) to develop guidelines to keep you protected no matter what industry you are in. Prevention worth a pound of cure, etc.
If you need hearing protection, hard hats, or bodysuits, don't "forget them at home." The use of personal protective equipment when needed can quite literally save your life. 
At Stoggles, we're a bit PPE obsessed, especially when it comes to eyewear. We saw a need in the industry for protective eyewear that met the safety standards workers needed while still maintaining comfort and style. That's why we created Stoggles. 
Stoggles: The Best PPE Your Eyes Will See
It's not wrong to want PPE that doesn't suck. We can also wish for hand sanitizer that smells good or earmuffs that don't look like they belong to a cartoon snowman. While we can't grant the last two, we can take care of the first. 
That's why we created Stoggles because you should have options that you actually enjoy wearing. Stoggles are a hybrid eyewear that combines the stylistic features you love about your regular eyeglasses or sunglasses with the necessary protective features you need to stay safe. 
Shatter Resistance
Your regular eyewear doesn't stand a chance against strikes and scrapes. Stoggles are ANSI Z887.1-2020 certified to ensure you are protected from flying objects, limbs, or whatever is in your path. 
The ANSI standard means your Stoggles have passed the:
High Mass Impact Test: Weighted ball bearings dropped from a specified height directly onto the lenses of your glasses. No shattering can occur for the glasses to pass the test. 
High-Velocity Test: A ball bearing is fired directly at the lenses of the glasses (which are securely strapped to a headform). When the glasses don't shatter, it's a victory, and the test is passed. 
Wearing protective eyewear ensures shards of glass from your regular eyewear don't enter your eyes and that your eyes are protected from flying objects.
Side and Top Shields
Regular glasses leave your eyes vulnerable near your eyebrows and across your temples as well as under the eyes near your cheekbones (for some). Stoggles are crafted with side and top shields to give you protection in these areas. Side and top shields are streamlined and easy to wear and never interfere with prescription options if you need prescription lenses. 
By the way, if you do need prescription safety eyewear, just upload your prescription to our website and we'll custom-design a pair of Stoggles with your prescription so you can stay safe, look great, and still have perfect vision. 
Anti-Fog
Fogging eyewear isn't safe. Removing your eyewear to wipe down fog takes you off task, which could result in an accident or mistake. It also leaves your eyes vulnerable to the workplace hazards you face. 
Anti-fog wipes and drops might help you avoid a steamy situation short term, but for long-term protection, you need glasses that have been treated with an anti-fogging solution. Anti-fog wipes/drops might not work at all in harsher conditions because the tech doesn't hold up. 
That's why we dip ours for a more generous coat: Stoggles get a dip into our unique anti-fog solution (it took us nine months, no biggie). This mixture is longer-lasting and way more even than spray solutions. Level up.
Blue Light Protection
You might think blue light protection is only necessary when you're sitting behind a screen. While it's true that office workers (and anyone who uses a tablet or smartphone) need protection from blue light, it's important to remember that blue light is also emitted from the sun. In fact, the sun is the biggest source of blue light.
Blue light protection is more than just UV protection. You need both. It's why every pair of Stoggles comes preloaded with blue light-blocking lenses to filter out harmful blue light and keep your eyes safe whether you're outside or in. 
UV Rays
Stoggles are made from ultra-lightweight polycarbonate material that allows you to have crystal-clear vision with natural UV protection. No tinting necessary. 
The sun is incredibly damaging to the eyes and can cause age-related illnesses like macular degeneration to happen faster. Protecting your eyes from the sun is as easy as throwing on your Stoggles. 
Impeccable Style
Yes, there are stylish safety eyewear options. No more uncomfortable, ill-fitting glasses that will just wind up lost in your car. Stoggles are so effortlessly comfortable and stylish you'll actually want to wear them. 
We offer numerous frame shape options (like cat eye and aviators) and a kaleidoscope of colors so you can pick the pair that best matches your personality, your job, or your reflective clothing. We also offer two different frame sizes on the rectangle frame if you'd prefer a low-bridge fit over the classic medium. Stoggles square frames also come in a kid's size as well as the adult medium. 
PPE Way To Be
From healthcare workers to road workers, there's always a need for proper PPE. Wearing your protective gear is important for your own safety and to keep others around you safe (even that coworker that takes your lunch from the fridge). It's also required, so don't be too cool for school. Wear your safety gear and encourage your coworkers to do the same. 
Want to be a trendsetter while you're working with electric arcs or controlling contaminants? Then get Stoggles. Stoggles are the new way to protect your eyes from the danger in your workplace. Side note: They also work great for home use, too. 
Keep your eyes safe and your style on point. Stoggles checks all the boxes you need for safety, style, and satisfaction. 
Sources:
Work Safety Introduction - Injury Facts
Employers Must Provide and Pay for PPE| Occupational Safety and Health Administration
Personal Protective Equipment (PPE) for Construction | Office of Environmental Health and Safety