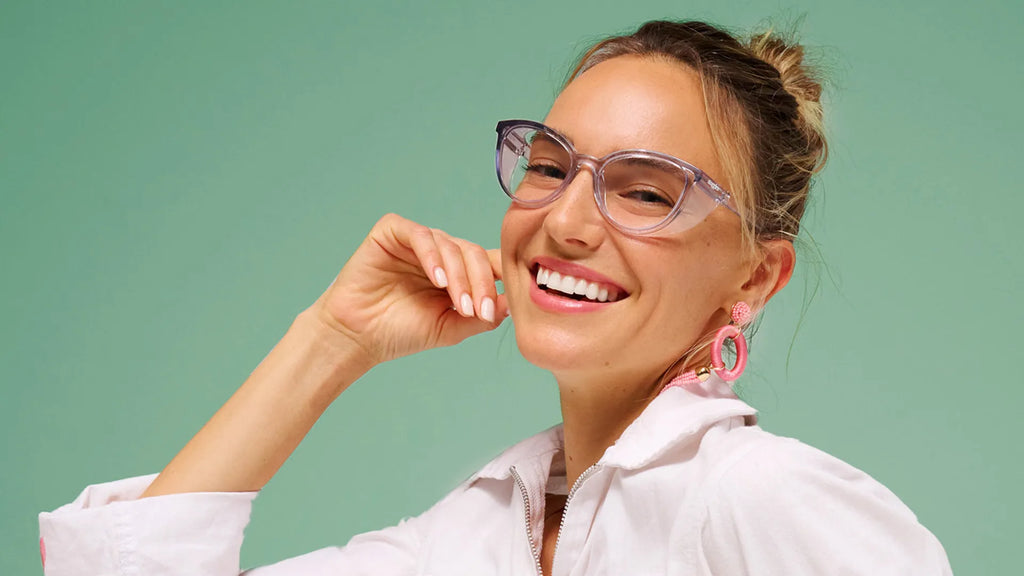 If you've just come away from an eye exam with a prescription for corrective lenses, you might be wondering how wearing glasses will affect your overall appearance. This is especially true if you're in the 40+ crowd and got the news that, yes, you need corrective lenses to see clearly. 
Don't worry. If you've never had to shop for frames before, you should know: you've got options. You are no longer limited to horn-rimmed glasses with visible lines to delineate your "up close" correction from your "far away correction. In fact, depending on the eyewear you select, your new frames could even make you look younger.
Looking younger is not even half the battle. It's also protecting your eyes. While you might be holding the menu out further to order at a restaurant, taking good care of eye health will help keep your eyes as young as possible. Not quite cryogenic temperature young, but anything you can do that helps doesn't hurt, right?
Stoggles is in da house, as the cool kids say (maybe). Let's get to looking younger and feeling even better.
Elements of Eyewear Style
The style and safety experts at Stoggles are here to help. We pride ourselves on having our fingers on the pulse of current style, at least as it pertains to eyewear. Let's cover what's available in terms of frame shape, color, rim style, and size, so you can find eyewear that shaves ten years off your face (or at least helps you look more on-trend).
Frame Shape
The frame shape you pick says a lot about your personality and your ability to cleverly match your face shape to the frames that look custom-made. Not sure what your face shape is? We've got a tool for that. Check out our in-depth guide on how to find your face shape and find frames that compliment it. 
Meanwhile, some of the most popular, current frame shapes we love are below. 
Round. They're classic; they're cool; they're a Beatles fan-favorite. Round frames offer style that is on-trend but also understated and elegant. Try round frames for balancing out angular jaws or adding width to a narrow face.


Square. These frames have right angles in all the right places. Square frames work great for heart-shaped faces and round faces, offering geometric balance right along with vision correction and protection. Afraid you'll look like a square? Try a bright color to keep them looking fresh. 
Rectangle. The OG hipster frames, rectangle frames, instantly add width to the cheekbone area and upgrade your look to business casual. Whether you're actually working (or just want to look like it), you'll radiate concentration and professionalism.
Cat-eye. The iconic cat-eye frames of the 1950s get upgraded with wider lenses and bright colors. These frames work well for virtually any face shape and retain a playful look, which can help dial back the clock a few years. 
Aviators. Your other car is an Airbus. Just kidding, it's a bicycle, but who needs to know? Larger-than-life aviator frames can give you all the clout without the career. These frames never go out of style and work well for anyone who wants a slightly oversized frame look. 
In addition to frames, the color you choose can also make a difference, especially when it comes to looking more youthful. 
Color
Sure, you're more comfortable in a tortoiseshell print, but if it's a youthful appearance you crave, you might want to consider a different color. Color can be tricky. Bright colors may not look as iconic and trendy on you as they do on a younger person, but that doesn't mean you're stuck with the standards of black and brown. 
Instead, opt for muted versions of the bright colors you like. Stoggles polycarbonate frames, for instance, are available in transparent versions of the colors you love, giving off an almost ethereal appearance.
Rimless, Semi-Rimmed, or Rimmed (Oh My)
Rim style refers to the amount of frame that surrounds your lenses. The frame style you choose may automatically dictate the type of rims you'll have. You'll also need to remember that if you want a noticeable color, you'll need to get a fully-rimmed pair of glasses or at least a semi-rimmed pair.
Rimless. These glasses have a frame around the lenses, usually made of metal to ensure durability, and the rim of the glasses sits inside a groover, hiding it from view. If you choose rimless cat-eye glasses, for instance, the lenses themselves will be cut in cat-eye shape and won't have a frame surrounding them. 
Semi-rimmed. These types of glasses have a rim that either runs across the top or bottom of both lenses. Most semi-rimmed eyewear will only have a rimless look on the bottom, making it more complementary and appealing to have the top of the frame appear more visibly heavy. 
Rimmed. Fully-rimmed glasses have a frame that surrounds the entirety of both lenses, and these are the most common type, since other options usually come in metal frames and tend to be more expensive. 
Which style makes you look younger? We'd argue for fully rimmed. Although rimless styles offer a low-profile version of eyewear, they may highlight aging skin around your eyes, making you look older than you want to appear. Rimless frames give a posh appearance and a feeling of opulence — but thick-rimmed glasses tend to do this, too.
Size
Avoid tiny frames as you get older. These almost always give off drug-store reading glasses vibes that can instantly date and have you signing up for AARP benefits. Instead, opt for frames that are even with your temples (or sit slightly outside) with a height that meets your eyebrows. 
Once you've picked the best frame shape, color, and size, you can even add lenses that help keep your eyes and the skin around your eyes from aging prematurely. 
Eyewear That Helps You Stay Young
If you're into anti-aging (and who isn't), know that your eyewear plays a role in keeping you looking youthful. Like sunscreen for your skin, eyewear can help protect you from UV rays and other external stressors that could leave your eyes tired. In the same war that sunscreen went from being a beach-going thing to an everyday thing, Stoggles is paving the way to making protective eyewear something people use everyday, in everything they do.
UV Protection
Your regular sunglasses might not be blocking UV rays. You read that right. Sure, the shade helps prevent you from squinting, but unless your eyewear specifically says it's UV blocking, those harmful rays could be penetrating your lenses, wrinkling your delicate eye-area skin, and even prematurely aging your eyes.
At Stoggles, we think your vision is too important to leave to chance. That's why every pair of Stoggles is crafted from polycarbonate material, which is naturally UV-blocking. Stoggles Dimmers™ have UV-responsive lenses that naturally adjust when exposed to UV light, keeping you from squinting while protecting your eyes at the same time. 
Blue Light Blocking
Like UV light, blue light is an intrusive form of light that radiates from the sun and could impact your vision as you age. The real risk with blue light is our continual exposure to it. Blue light also comes from smartphones, tablets, computers, and LED televisions, so we're surrounded by this light more than UV rays. 
Protection from blue light comes in the form of blue light filtering lenses, which we place in every pair of Stoggles we make. Our lenses refract blue light away from your eyes, keeping them safe and even helping cut down on eye strain and fatigue while you're cranking out reports or scrolling away on your favorite device.
For the ultimate in vision protection and anti-aging safety, you need protective eyewear. 
Safety Eyewear Helps You Keep Your Vision
Nothing says old timer like cataracts and eye patches. You might think that sounds a little extreme, but we'd disagree. Eye injuries happen more frequently than you may think, and coupled with the effects of aging that naturally cause your vision to deteriorate, you could end up with major eye issues before you reach age 50. 
Stay safe by coupling your anti-aging eyewear (UV protection and blue light blocking) with these safety features that can help protect your eyes from injury and vision loss.
Impact and Shatter Resistance
Eyewear that shatters when struck could send shards of material into your eyes that could cause serious injury or even blindness. Avoid the risk with ANSI Z87.1-2020 certified lenses. All Stoggles come preloaded with this standard, which means every pair can withstand high-velocity impact without shattering. 
Anti-Fog Protection
No one wants to deal with fogging eyewear, so Stoggles are coated with an anti-fogging dip coat, so they resist fogging for a really long time. No anti-fog coating lasts forever, but Stoggles are designed to stay fog-free for the long haul, thanks to our proprietary formula we spent nine months creating. You can protect the anti-fog coating by not cleaning your lenses with harsh chemicals — think of it like skincare for your eyewear lenses. 
Side and Top Shields
Your basic eyewear design leaves gaps in coverage on your temples and near your eyebrows. Top and side shields fill in the gaps with a low-profile design that looks sleek and minimalist. Wraparound lenses also offer this feature, but some styles can wreak havoc on prescription lenses, creating funhouse mirror effects that aren't safe (or fun). 
Plus, they aren't exactly the most stylish option, as they can make you look seriously outdated and unstylish. The polycarbonate side and top shields also protect the skin around your eyes from sunlight-induced wrinkles.
Stoggles: The Anti-Aging Secret You Need Right Now
Sure, you can pay a fortune for eye creams, or you can get UV-protective lenses that help prevent premature lines and wrinkles around your eyes and keep your vision crystal clear and youthful. Stoggles are available in the trendiest frames and colors to keep you looking as young as you feel. 
Wearing specs can make you look younger; you just have to know how to wear them correctly. Stoggles give you the options you need to look young and keep your vision protected. 
Sources:
Choosing Glasses That Make You Look Younger | Verywell Health
Protecting your eyes from the sun's UV light | NIH
How blue light affects your eyes, sleep, and health | UC Davis
Safety Glasses and Protective Eyewear Prevent Potentially Blinding Eye Injuries | American Academy of Ophthalmology