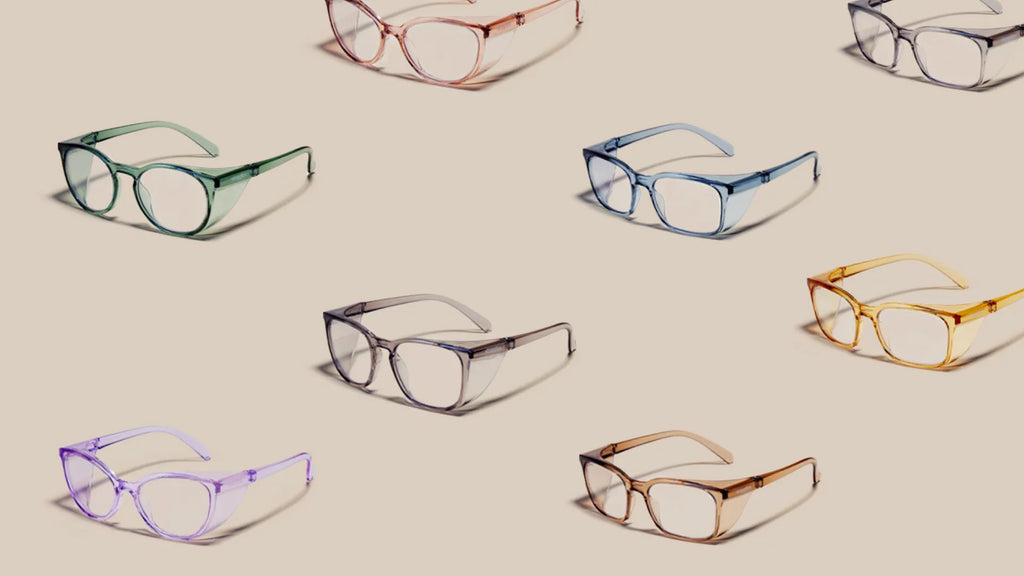 Tired of the same old eyewear shapes you find at your local big box store? Wondering if you'll ever find a pair of glasses that look and feel like they were custom-made for you? Wonder no more. With so many different frame shapes available, there's zero reason to settle for the status quo. 
We don't like to brag, but at Stoggles, we do two things exceptionally well: style and safety. You could call us the All-Knowing Eyewear Style Professionals or the Sensational Safety Eyewear Experts, but we don't need flashy titles (much). 
If you think you've tried on every frame shape available, think again. We'll cover some of the most basic shapes, new and improved shapes, and unexpected shapes and tell you whether or not they'll work for your face shape. 
We'll also tell you about a brand new category of eyewear that elevates the styles you love with better functionality, so you can stop switching from sunglasses to prescription glasses to safety specs and back again. Instead, you can get everything you need in one fell (super stylish and safe) swoop.
Face Shape Matters
First things first, we need to find out your face shape. If you want eyewear that looks and fits well, you need to match your frames to your face. Before you even start down the rabbit hole of aesthetics with face shape and eyewear, here are a few reminders:
Practically everyone has some degree of asymmetry on their face. As we get older, our faces naturally become more asymmetrical (but still totally gorgeous). 
Just because a certain style of frame has been suggested for your face shape doesn't mean you have to wear it. Personal style is the most important rule for personal style. 
If your eyewear isn't comfortable, it isn't working for you. Eyewear should feel comfortable, lightweight, and make you feel more confident, not less confident. 
We can usually classify ourselves into a few fairly common face shapes. They include round, oval, square, heart, and diamond face shapes. 
Round
Round face shapes are as wide as they are long. They may have less prominent cheekbones and a softer jawline. The jaw and the forehead may have equal measurements. 
Oval
An oval face shape is longer than it is wide. Oval face shapes have a more narrow chin and forehead, with cheeks that are slightly more prominent. 
Square
If you have an angular jaw and a wide forehead, you might have a square face. Square face shapes are characterized by strong jawlines and a measurement across the forehead that is almost equal to the length of the jaw. 
Heart
A heart-shaped face has a pointed chin and is wider at the forehead. A person with a heart-shaped face may also have high cheekbones that add width to the midface area. 
Diamond
Always getting compliments on your strong cheekbones? You might have a diamond-shaped face. These face types are similar to oval face shapes, but they have angular cheekbones that are noticeable and prominent, giving their face a classic diamond shape.
No matter your face shape, there is a frame style that's perfect for you. And remember, the most perfect style is the one you personally love the most. 
Seven Frame Shapes 
Let's dive in. From aviators to rectangles and everything in between, we've got your ultimate guide to understanding the differences between eyewear frames. We'll also give you some ideas about how to style yourself based on which frame shapes work best for certain facial features and face shapes. 
1. Aviators
These iconic 70's glasses have a vintage feel that is ultra-hip and iconic. Aviator Frames have an oversized fit, naturally, so if you have a smaller face shape, you might find them slightly overpowering. 
To make them work, look for options that sit outside your temples and don't rest below your natural cheekbone. 
2. Cat-Eye Glasses
Cat-eye frames are another throwback shape that has a definite vintage feel. These eyeglass frames became popular in the 1950s and have a spunky feel that can add attention to your cheekbones and make them appear more prominent. 
Retro cat eye frames work perfectly for round face shapes or oval face shapes to help draw attention to the cheeks. 
3. Geometric
If you aren't sure what shape you're looking at, you're probably looking at a geometric design. These somewhat free-form frames are unique and artistically rendered. They may be octagon, heptagon, or hexagon in shape, or even have an emoji shape (like a heart or star). 
These glasses styles are typically considered fashion eyewear, and wearers usually reserve them for parties or events because they aren't necessarily comfortable or practical for everyday use.
4. Oval
Oval frames are like softened rectangular frames. These flattened circles work well for oval face shapes and square face shapes to help with the contrast. If you choose oval glasses, make sure they are comfortable and don't interfere with your line of vision. Some oval shapes are too narrow, and the rim of the glasses interferes with vision, so they can be considered super stylish and less functional. 
5. Rectangular 
The original hipster eyewear, rectangle frames are classic and one of the best glasses styles you can nab for looking smarter than you actually are. 
College professor or living at home with your parents? Who can say? Your rectangular frames give you an understated confidence that overstates your title. Perfect for oval, round, and heart-shaped faces, adding a pair of rectangle frames instantly elevates your IQ by 30 points. 
6. Round
John Lennon made them popular, and they're still iconic today, perhaps thanks to Harry Potter, the Boy Who Lived for Eyewear Styles. Round frames are a classic shape, but they're anything but basic. Round glasses are the solution for softening a square face, adding dimension to heart face shapes, and helping people with smaller faces find a perfect fit. 
7. Square 
If you've got a softer jawline or a round, oblong, or oval face shape, then square frames are your go-to. They help add dimension and clean lines that help add balance to these face types. Square glasses, like round glasses, are a solution that also works for small face shapes. Large square frames are also great for giving balance to large faces, too. 
Understanding Frame Types
Within the umbrella of frame shapes, you can also consider frame types. There are three basic types of frames: rimless, semi-rimless (aka browline frames), and rimmed. 
Rimless
If you want ultra-low profile eyewear, consider rimless glasses. These frames have no visible rim around the lenses. This means that you basically have the arms that go behind your ears and sit inside a groove along the periphery of the lenses, giving it a rimless appearance. 
Rimless eyewear may be your go-to if you are uncomfortable with visible eyewear or if you just prefer the style of barely-there glasses. Remember, however, that you may be limited in shape since you are essentially forgoing a frame, and rimless glasses are generally pricey and only available in metal frames. 
Semi-Rimless (Browline Glasses)
Eyewear that has a rim on the top half (or browline) of the lens is known as semi-rimless. These glasses are perfect for adding color and drawing attention to your browline, and drawing attention to your eyes and upward toward your forehead. 
These types of lenses may be perfect if you want to draw attention away from a heavier midface and add balance to a prominent chin. You'll also get more frame style options than you will with completely rimless eyewear. A classic example of the semi-rimless shape is the Rayban Clubmaster, which features a heavy frame at the top, but a rimless look at the bottom. 
Rimmed
Rimmed eyewear is eyewear that has a frame that surrounds both lenses entirely. Most popularly, you may know rimmed glasses for their thin, metal frames, but even acetate frames that surround the entire lens are considered rimmed.
You'll get the most color options in this category, a consideration for matching your eyewear to your skin tone, and you'll be able to play around with numerous shapes. 
Safety Features for Any Frame Style
You may not know this, but you need safety features on your eyewear, and you needed them yesterday. Your eyes are at risk every day from external stressors like the sun, pollution, flying objects, and even allergens. 
Lucky for you, Stoggles is a new category of eyewear that combines the stylish frames you love with the safety features you absolutely need. Here's what we pack into every pair of cat-eye, aviator, round, or rectangular framed eyewear we make.
Blue Light Blockers
Your phone, your tablet, your computer, and the sun all emit blue light, an intrusive form of light that can potentially damage your eyes and even interfere with your circadian rhythm. Blue light has also been associated with eye strain and fatigue. Keep your eyes safe by opting for eyewear that has blue light-blocking technology. 
Every pair of Stoggles features blue light filtering lenses, thanks to a blue light-blocking compound applied at the time of manufacturing, that keep your eyes safe from any blue light you might encounter.
UV Blocking Lenses
We all know UV light can be harmful to our skin, but it's also bad for our eyes, causing them to age prematurely. Stoggles are crafted from lightweight, ultra-comfortable polycarbonate, a material that is naturally UV-blocking while remaining crystal clear. 
Need a little shade? Try Stoggles Dimmers™, available in several of our favorite frame shapes. These UV-responsive lenses work like transition lenses, darkening when exposed to UV light and turning clear when the light goes away.
Prescription Availability
Safety glasses that you have to wear over your regular corrective lenses aren't comfortable. If they aren't comfortable, you probably won't wear them, and if you aren't wearing them, they aren't really safe. 
Don't worry; we've got you covered. After you have your eye exam and get your prescription lenses, shoot the script our way and let us create a pair of Stoggles with your customized vision correction lenses. You'll stay safe, comfortable, and stylish. 
Anti-Fog Lenses
You've tried all the methods, including smearing shaving cream on your lenses and even sudsing them up with dish soap. Nothing works. Fogging lenses are unsafe and unsightly, not to mention they're really annoying. 
Stop the insanity with Stoggles. We coat our lenses with an anti-fogging dip compound — our own secret recipe — so your eyewear stays fog free for a really long time (no shaving or cleaning products required). Compare our even, long-lasting anti-fog compound with the inferior anti-fog sprays, and you'll never go back.
Shatter Resistance
Safety eyewear isn't safe if it shatters and sends shards of glass or plastic into your eyeballs. That's why every pair of Stoggles undergoes two tests so they can earn the ANSI Z87.1-2020 certification. This certification ensures that your eyewear can withstand high-velocity impact without shattering. 
That's enough protection to keep you safe from road debris, combative toddlers, fists, rocks, sticks, dinnerware, and any other object or appendage that could become projectile or aggressive. 
Side and Top Shields
Just wearing regular eyeglasses isn't enough to keep your eyes completely safe. Regular eyeglasses and sunglasses have gaps in coverage on the temples at the top of your eyebrows. These gaps could lead to an injury you don't need, which is why Stoggles are created with top and side shields.
These shields offer a low-profile design that keeps your eyes safe. If you've tried wraparound frames with your prescription lenses and gotten a funhouse mirror effect, those might not be the best frames for you. Side and top shields won't interfere with your prescription, which can provide a better solution. 
Shape Up With Stoggles
Shopping for eyewear can be difficult, but once you know what's available, you can pick the best frames for your own style and your face shape. No matter what style of frames you decide on, make sure you opt for safety eyewear that combines the safety elements you need with the aesthetics you love. 
Only when you love your glasses will you actually wear them — and what good are safety specs crammed in your desk drawer or forgotten under your car seat? Literally zero. Stoggles make it easy to stay safe because we make it fun to stay safe and look good. Stoggles give you the ability to experience safety and style together.
Sources:
The Relationship Between Age and Facial Asymmetry | AAPS
How to Choose Eyeglasses for Vision Correction | American Academy of Ophthalmology
Frameless Eyeglasses: Why Consider Rimless Glasses | MyVision.