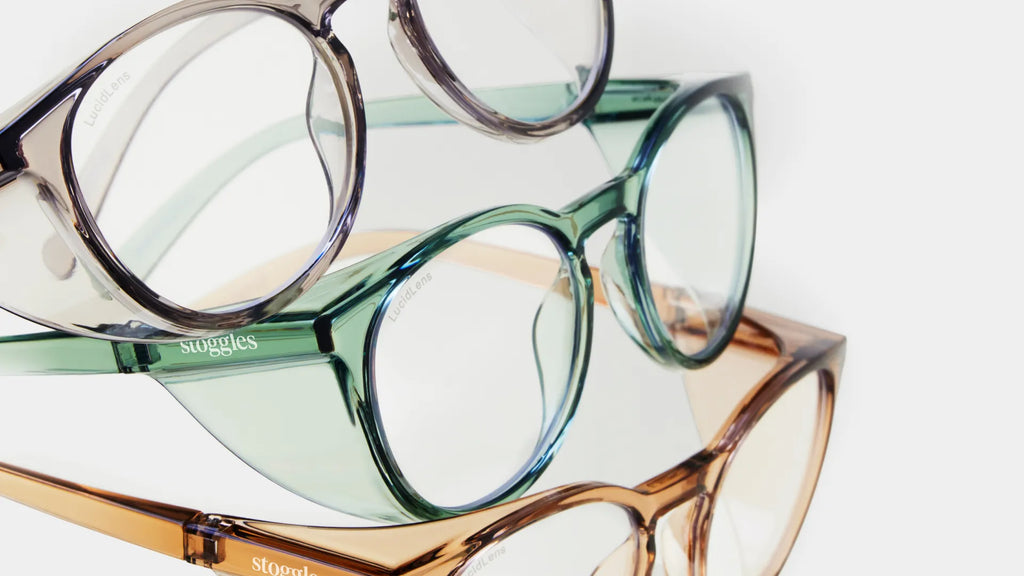 If you've got a small face, you've probably decided that shopping for eyewear in the kid's section is just part of life. Adult, one-size-fits-all glasses always tend to slide off your nose or project off the edges of your face like an early 2000s celebrity.
You might be okay shopping the kid's section for cheap sunglasses, but when you need corrective lenses or safety eyewear, children's versions fall short, even for your short and narrow kisser. 
At Stoggles, we create eyewear that is suitable for all. Available in two different frame widths, our eyewear is designed to fit your face like they were custom-built for you. We'll help you understand what it means to have a small face, which shapes work best to help give you balance, and what to look for in safety eyewear to protect your petite profile. 
Is My Face Small?
It only takes one comment to make you wonder. That one person who decided it was their job to let you know that your face is smaller in appearance compared to theirs. Now, you're on the hunt to find out if your face is considered small or not. 
To uncover the truth, we went on a face, fact-finding mission. Spoiler alert: It wasn't easy. It seems there's no "average" for face shape, which means we all have highly diversified face sizes. There is, however, a standard for what equates to being aesthetically pleasing or less aesthetically pleasing. 
The Case for the Beautiful Face
There are about a dozen different "studies" that claim to have found the secret to the aesthetically pleasing facial ratio. Some of these measure the distance in millimeters between the person's eyes compared to the distance between the eyes and mouth.
Others claim the secret to beauty lies in a golden ratio, where the length of the face is measured and then divided by the width. There are even studies that attempt to find a common "average" facial size and structure among different ethnic groups. 
The bottom line: Beauty truly is in the eye of the beholder. Everyone's face is at least slightly asymmetrical, and beauty standards are so outdated — they're as old and purposeless as the OG glasses made from leather, bone, ribbons, and copper. Just so 13th century. No offense to those "standards," but we're in the 21st century now. 
So … Is My Face Small or Not?
Maybe. Probably. It could be. We're not sure. 
Because there's no standard, it's best to focus on the size of eyewear and frame shape that works best for your face shape. That said, there are some basic frame sizes that manufacturers use to craft eyewear for the general population. 
Common Frame Sizes
Custom eyewear should fit perfectly, and the more measurements you take, the more customized you can expect your eyewear to feel. Eyewear widths are measured in millimeters. 
Common frame widths include:
Small: 125-129 mm
Medium: 130-134 mm
Large: 135-139 mm
Extra-Large: 140-145 mm
To find out which size you need, take a few measurements of your own:
How To Measure Your Face
To measure your face for frame width, it's pretty cut and dry. You'll need a ruler and a mirror. Hold the ruler in front of your nose and measure from temple to temple across your forehead. You might need to use a string or a band and then lay it next to the ruler to get an accurate measurement. 
Next, compare your measurement with the measurements above. If your measurement is between 125-129 millimeters, you've got a small face (at least by eyewear standards). 
What About Face Shape?
Face shape is also a consideration when shopping for eyewear. For instance, if you have a round face, wearing round frames can enhance the width of your face, making it look even rounder. If you choose rectangle frames instead, you'll balance the width of your cheeks and provide a more angular look. Similarly, if you have a square or chisesed jaw and cheekbones, round-shaped frames can specifically help elevate and balance your look.
If you aren't sure what face shape you're working with, we've got you. Check out our face shape guide here.
Choosing the Best Small-Face Glasses
Once you know you're shopping small, look for frame shapes that help give your face more width or length, creating more structure and bringing your face forward.
Cat-Eye Frames
Cat-eye frames are large over the eyes and taper out toward the outer edges. These frames are naturally larger than rectangle or square frames and are designed to sit slightly outside of your temples. These shapes work well for small faces because they cover the eye area and extend the eye area, making it look like the face is slightly wider than it really is. 
Round Frames
Round eyewear is classic and eternal. It literally never goes out of style. It's also a perfect solution for people with smaller faces because it offers a slim fit. Round eyewear can get lost on larger faces or make them appear bigger than they actually are. On a small face, round eyewear looks custom-fitted, adding width and length that look perfectly proportioned.
Square Frames
Like round frames, square frames are a classic and a standard. If you have a small face that is also oval or round in shape, a square frame can add angles and create symmetry across your cheeks. If you have higher or bigger cheekbones, though, square frames may be a bit uncomfortable below your eyes, especially when you smile. 
If you want boxy frames and have a small face, we recommend square over rectangle. Rectangle lenses may look too oversized on a smaller face (unless they are properly fitted, of course) — this can be great in some cases, similar to the effect of a cat-eye shape, or it can be less-than-ideal if you already have wider cheekbones.
Aviators Frames
Aviator frames are naturally larger as part of their style. Aviators can be a great addition to a small face if you get them in a face-coordinating size. Some aviator styles are so large they can make a small face look even smaller, so go for a smaller aviator shape that sits just slightly outside your temples to make sure your face doesn't get lost behind your lenses.
How About Safety Eyewear?
You know we're going to talk safety because safety is our jam. Style, however, is also our jam. That's why at Stoggles, we combine safety and style to keep eyes safe whether they're on small faces, large faces, or any face in between. 
Every pair of super stylish Stoggles comes standard with important features that keep your eyes safe in virtually every situation you may find yourself in, and we do offer a smaller size for those having a hard time finding the right eyewear.
ANSI Z87.1-2020 Protection
The ANSI Z87.1-2020 certification is the safety industry standard for eyewear. When eyewear has the this certification, it means that eyewear was deemed shatter-resistant through rigorous high-velocity testing. 
Rogue rock from a lawnmower? Covered. Combative patient in recovery? Also covered.
Anti-Fog Lenses
Fogging lenses create room for mistakes, accidents, and eye injuries. Stoggles are coated with an anti-fogging proprietary mixture (aka our secret recipe we spent nine months on) in the form of a thick dip coating done right after manufacturing, and they provide fog-free vision for a really, really long time. No wiping, spraying, or weird at-home anti-fog recipes required.
Side and Top Shields
Eye protection doesn't stop on the sides of your eyes or at the top near your eyebrows; most standard eyeglasses don't provide protection in these areas. Stoggles do. By streamlining your protection with low-profile top and side shields, we keep your eyes covered and you looking great — or rather, like you're wearing normal eyeglasses. With Stoggles, you can get the best of both worlds 
If you've had a bad experience with prescription wraparound lenses, this is revolutionary. Some wraparound lenses can warp the prescription in the lens, making it hard to see clearly. Most optometrists won't even agree to make them for you. 
UV Protection
You need UV protection, whether it's cloudy, sunny, or you're exposed to ultraviolet radiation from a source other than the sun. Stoggles give it to you. Our eyewear is made from ultra-lightweight polycarbonate material, which is naturally UV-blocking. 
If you need safety eyewear that also provides shade, try our new Stoggles Dimmers™. The same Stoggles shapes and design you love are now available with UV-responsive lenses that naturally darken when exposed to UV light. All the ultralightweight with none of the ultraviolet — yes, please!
Blue Light Protection
UV rays have gotten all the negative attention for too long. Blue light, also emitted from the sun but also from sources like LED televisions, tablets, computers, and smartphones, is another type of intrusive, damaging light that can harm your eyes. Stoggles are created with lenses that filter out blue light, so you're safe whether you're using a scroll saw or scrolling social media. 
Prescription-Ready
Need safety eyewear but also need corrective lenses? No problem. Simply upload your script to our website, and we'll take care of the rest, sending you a pair of Stoggles with your custom prescription. 
Stoggles: For All Faces
Small face? Large face? We don't discriminate. We care about your eyes and your style, and we make eyewear that takes care of both. We encourage you to check out our different frame widths (available in some styles) to find which size works best for you. 
Go ahead. Grab a few pairs of Stoggles and keep that little mug stylish, safe, and fabulously fitted. 
Sources:
Ideal beauty a matter of millimeters, study says | NBC News
[Measurement and analysis of human head-face dimensions | PubMed
How to Buy Glasses That Fit Your Face | Business Insider
Golden Ratio: The Science Behind Beauty | ABC7 Southwest Florida
The Quest for Clearer Vision: The History of Eyeglasses | Salus University