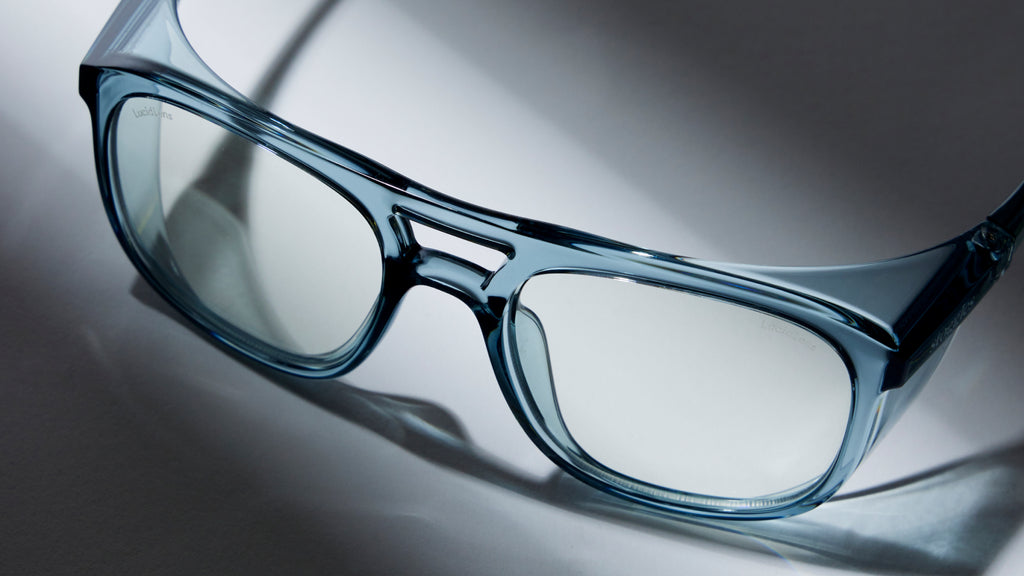 Every workplace comes with its share of hazards, even if you're just sitting at a desk or hanging out on a Zoom call at home. Some hazards are obvious, like nail guns or table saws.
But others can be stealthily imperceptible. For instance, did you know that while you're reading this (on your tablet, computer, or smartphone), your eyes are being exposed to dangerous blue light? 
The crew at Stoggles knows eye safety and can spot an eye hazard from a mile away (even without corrective lenses). We'll explain why eye safety is important in every workplace and what you can do to keep your eyes safe while you work. 
What Happens if I Get an Eye Injury?
Let's start with a quick lesson in biology and learn what makes your eyes so special. The eyes collect light reflected off of objects in front of you. That light is then sent back to the retina, which is located in the back of your eye. 
The retina is home to specialized cells capable of changing the collected light into electrical signals. Those signals are then sent to the brain via the optic nerve. The brain translates the signals into the objects we see in front of us. 
Retinal cells are highly specialized; only those cells can do their job. Another fun fact? They don't regenerate. If they are damaged or destroyed, a portion of your vision could be lost. So yeah, if you get an eye injury, it's actually a really big deal that could even cost you your eyesight.
Eye Injuries: The Staggering Statistics
It's easy to armchair quarterback the probability that you'll get an eye injury, especially if you've ever had one and don't work in a particularly dangerous environment. The truth is, they're more common than anyone thinks. 
Here are some fast facts that are (excuse the pun) eye-opening:
More than 2,000 eye-related injuries happen on the job each day. That's over 700,000 per year. Of those, nearly 300,000 end up with a visit to the emergency room. 
Eye injuries account for almost half (about 45%) of all head injuries that lead to missed work. 
Men between the ages of 25-44 are the most likely to receive eye injuries, but that doesn't mean women are exempt. 
Of the eye injuries sustained at work, experts say that 90% of them are completely preventable by simply wearing safety eyewear. 
Unless you were an early investor in Apple or Gamestop or an heir to a family fortune, we'd guess that time off from work and medical bills could be crippling to your finances. Not to mention, you could sustain an injury that could take you out of work permanently and cost your eyesight. 
Because protective eyewear is an easy solution, you'd think our eye injury statistics are on the decline, but each year they tend to hover around the same metric. Why? Workers don't like wearing personal protective equipment (like eyewear).
Why We Aren't Wearing Our Protective Eyewear
It's more than just being too cool for school. Workers aren't wearing protective safety glasses because, many times, the ones provided by their employers don't fit well and are incredibly uncomfortable. Eyewear that is so uncomfortable it becomes distracting is an issue of safety in and of itself. 
The top five reasons workers aren't wearing their glasses (and simultaneously playing Russian roulette with their vision) have merit. 
1. Comfort
The number one reason why people don't wear protective eyewear is due to a lack of comfort. Why? The eyewear doesn't fit right. Eyewear that pinches, squeezes, or slips can cause headaches or become distracting. 
Beyond that, the glasses are hot. This is a common complaint from workers who wear safety glasses over their corrective eyeglasses. No one wants to think about having to wear double layers of eyewear. 
2. Fog
The glasses constantly fog. Wearing a mask or transferring from indoors to outdoors can cause condensation to form on the glasses. When a worker has to remove their eyewear to wipe away the fog, their eyes aren't safe from workplace hazards, and they're also taken away from their tasks. 
3. Style
Previously, PPE looked lame. Hear us out; it's a legitimate complaint. You spend most of your workday at work. If you don't feel confident and comfortable in your gear, that will translate into how you act as an employee and how you interact with others. 
The Stoggles Mission
To sum it up, besides style and fog and a billion other things, the number one reason people aren't wearing safety eyewear is comfort. 
This stems from the fact that most protective eyewear looks cheap, feels cheap, and, let's face it, is produced cheaply too. Here's why: For the longest time, this industry has been governed by price-sensitive purchasers who, funnily enough, aren't the ones that end up wearing them. 
This leads to employers mandating that employees wear safety eyewear, which then creates a culture around the product where employees look at it as something they HAVE to wear vs. it being something they WANT to wear. 
Stoggles is on a mission to change just that. Stoggles are designed around the end user, not the people who saw a clip art of a middle school science student and said, "Yeah, that's good enough," and cashed in on that lazy design. It isn't good enough — people deserve better.
At Stoggles, we saw a need, and we created a solution. Our protective eyewear is a hybrid model that blends the comfort and style of your favorite specs with the safety features you need to shield your eyes from danger. Because "good enough" isn't good or enough. Protecting your eyes doesn't need to be a sacrifice; it can and should be a thing that improves every aspect of your life. 
I Don't Need Safety Eyewear. I Sit at a Desk!
Au contraire, mon frère. Even desk jockeys need to protect their eyes, and we don't mean from rogue paper cuts or flying staplers from disgruntled coworkers. Blue light exposure is your number one eye enemy when you're working a desk job. 
Blue light is emitted from the sun, but it's also emitted from sources like tablets, computers, smartphones, LED televisions, and LED light bulbs. As it comes from these sources, we're likely exposed to it more than we are exposed to UV rays. 
Like UV rays, blue light can pass through the cornea and reach the retina (home to those special task force cells). The good news is that you can easily protect your eyes from blue light by choosing to wear blue-light-blocking eyewear, like the kind we offer at Stoggles. 
Blue light-blocking lenses, like the ones you'll find in every pair of Stoggles, are crafted with a blue light filtering lens that diverts blue light away from your eyes, keeping them safe while you scroll, watch, edit, or Zoom chat. 
No matter what your occupation, protecting your eyes is essential and necessary. Luckily, you found Stoggles, so you can protect your eyes, stay comfortable, and remain impeccably stylish simultaneously. 
What Qualities Do Safety Glasses Need?
There are a lot of options for workplace safety eyewear. At Stoggles, we combine the protection benefits you need with the chic features you want to keep both you and your employer happy. Our motto: you shouldn't have to choose form over function or vice versa. 
Here's what you'll find in every pair of Stoggles hybrid eyewear we sell:
ANSI Z87.1-2020 Certification 
The American National Standards Institute creates guidelines that regulate the level of protection your eyewear should have across multiple industries. For impact resistance, the ANSI Z87.1-2020 certification is the gold standard.
Eyewear that has this certification has undergone this epic test:
High-velocity test. The same eyewear is strapped to a headform, and a steel ball bearing is fired directly at the lens from a specified distance. To pass, there can't be any shattering on the lens. 
Call it the Eyewear Olympics; call it the Safety Glasses Strongman; whatever you call it, just make sure your eyewear has it, like every pair of super safe, ANSI-certified Stoggles. 
Anti-Fog Lenses
Fog is a real safety issue. Removing eyewear to wipe down fog is distracting and removes the protection from your eyes. It's like lowering your shield in a laser tag game; the second you do, you're toast. 
Stoggles are created with anti-fog lenses that are chemically treated to change the way water vapor interacts with the lens surface. Using both hydrophobic and hydrophilic tech, our lenses can withstand large amounts of condensation.
So, yeah, we're prettttty proud of our proprietary anti-fog coating: We found that other anti-fog sprays only resulted in thin levels of fog protection, so we spent nine months making a dip solution for a better shield. You wouldn't spritz sunscreen on as lightly as you do perfume, and it's basically (or at least thematically, the same with eyewear).
This means no matter how hot the air (or your breath) gets, those Stoggles won't fog and drive you crazy. 
UV Protection
We know that the sun can damage our eyesight, and most of us usually wear sunglasses when outdoors. Did you know that you need to also protect your eyes from UV light you could be exposed to while indoors on your job? Manufacturing jobs and jobs that involve machinery can expose your eyes to UV light, that's as damaging as standing outside in the sun. 
We didn't forget about those peeps, which is why we created our Stoggles with lightweight polycarbonate material that is naturally UV-blocking. 
Now with Stoggles Dimmers, you can go one step further and not just protect your eyes from UV but also the glaring sunlight. Our lenses seamlessly transition from dark to light and vice versa, ensuring you're prepared no matter the condition.
Superior Style
Safety first; Style also first! With trendy and classic frame shapes and numerous different color options, you can fully customize your safety eyewear to suit your personality, wardrobe, or simply your mood. We'll never leave you looking like a middle school lab student, a truth that both you and your eyes and your Instagram can appreciate. 
Prescription Friendly
No one should have to wear their safety eyewear over their regular corrective glasses. That's why we offer our Stoggles with prescription lenses. You upload your script on our website, and we'll do the rest, customizing a pair of Stoggles that correct your vision, protect your eyes, and look incredibly fashionable, the ultimate trifecta of eye care.
Work Those Stoggles
While you're working your angles and climbing the company ladder, make sure you're wearing your Stoggles. You'll keep your vision safe, your employer happy, and start a positive trend. So go ahead, pick your favorite frame. We'll ship your Stoggles out ASAP so you can be part of the eye care revolution. 
It's time to bring awareness to eye protection. We're giving it a new face, a new experience through a fundamentally different product that's evolved as a form to deliver supreme safety with supreme comfort and style. This combination has never been seen before, and that's why we are changing people's perception of protective eyewear — and looking fabulous doing so. 
Sources:
Eye Safety At-a-Glance | The Vision Council
90% of workplace eye injuries could be lessened or prevented with safety eyewear use | 2016-03-28 | ISHN
Wrong safety eyewear leading to eye strain, poor compliance | The Safety Mag
Retinal Ganglion Cells—Diversity of Cell Types and Clinical Relevance | Frontiers