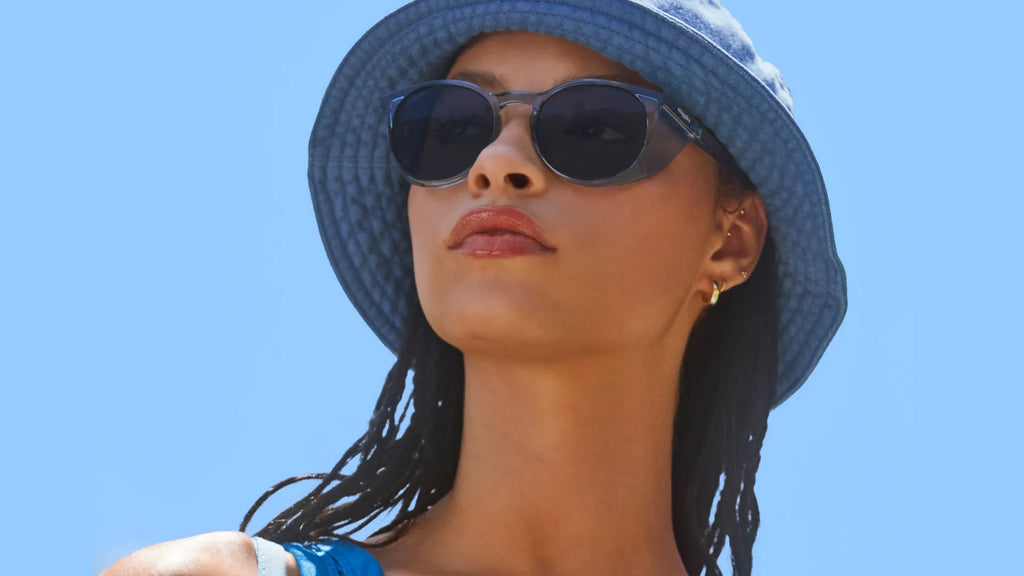 All you want is solid eyewear that protects your eyes, lasts for more than a few months, and doesn't look like lab safety goggles. When you head to the store (or begin to do a little online research like you are right now), you're bombarded with more options than you even knew were available. 
One of the hardest decisions you might have to make is whether or not you need UV protection and/or polarized lenses. Spoiler alert: You always need UV protection, you sometimes need polarization. 
The team at Stoggles is here to make it easy for you. We'll explain the differences between UV protection and polarization, including when you need each and what specifications to consider. We'll also give you a few additional tips about keeping your eyes safe and stylish (because that's basically our thing) and provide a one stop shop for all your eyewear needs. 
Why Is UV Protection Important? 
The truth is, sun protection is no laughing matter. Consider the potential damage to your vision, and you'll agree.
How Does the Sun Affect Your Vision?
The sun damages your eyes much in the same way it can damage your skin by speeding up the aging process. Cataracts and macular degeneration are two conditions that are normally associated with aging, but you can develop them as early as 30 if you continuously expose your eyes to UV light without protection. 
Other conditions, like pterygium (aka surfer's eye), can occur from light reflected off of surfaces like snow or water. It's possible to even develop a sunburn on your cornea, which can result in serious infections if left untreated. 
Not to mention, the delicate skin that surrounds your eyes (that could be protected by eyewear) can develop skin cancer. Protecting your eye skin and your eyes from the sun is crucial to keeping your vision (and your eyelids) your entire life. 
What Is UV Protective Eyewear?
Those uber-dark shades might not be giving you much protection. Here's why: the level of tinting on your glasses does not correlate to the level of sun protection you're getting for your eyes. In fact, you can have really dark glasses that offer virtually no UV protection. 
UV protective lenses have specialized coatings or are made with a special material that naturally protects your eyes from both UVA and UVB rays (both of which are damaging). 
When Do You Need UV Protective Eyewear?
Anytime you'll be outside, you need UV-protective eyewear. Is it sunny? You need UV-protective lenses. Is it overcast? You need UV-protective lenses. You even need UV protection if you sit indoors near a window that doesn't offer UV Protection. 
Bottom line: Having eyewear that doesn't have a dark tint but does offer UV protection is the way to go because you can use the eyewear under any conditions. 
Now to polarize the conversation. Let's talk about polarized glasses and learn how they are different from UV protective glasses. 
Oh So Polarizing 
If you've ever been fishing, snowboarding, or surfing, you've probably encountered glare. Glare refers to the amount of light reflected off of the surface of water, snow, ice, or other surfaces that enters your eyes and makes it hard to see. 
Glare can also cause UV damage. Photokeratitis is a condition caused by prolonged exposure to the sun from reflected surfaces — thus, it makes sense you'd want to protect your eyes from this evil, reflective light. 
Enter polarized eyewear. Polarized lenses are designed for one purpose: to reduce glare and provide a more visually comfortable experience. If you're paying attention, you'll notice we did not say that polarized lenses provide UV protection because, strictly speaking, they do not. 
Many types of polarized lenses will offer UV protection, but many of them don't. UV protection is usually marked on the arm of the eyewear or on the lens to let you know how much protection you're getting. If not, check with the manufacturer. 
When Do You Need Polarized Lenses?
If you'll be working or playing on a reflective surface, having polarized specs can be a great help and make it easier for you to see. However, there are some scenarios when polarized eyewear should not be worn. 
For instance, if you are a road cyclist, wearing polarized lenses could make it harder for you to spot oil slicks. Likewise, if your work or play involves reading LCD screens, you'll find it hard to do so if you're wearing polarized lenses. 
What Polarized Lenses Should You Buy?
If your budget allows, buying a pair of polarized glasses with UV protection and a pair of non-polarized UV protective glasses is ideal, but only if you'll be in situations (like fishing, driving, or skiing) when polarized lenses would be beneficial). 
If you don't find yourself on the water or the slopes much, UV-protective eyewear is a better option. While you're shopping for the best UV lenses available, we've got a few pointers. 
How To Pick UV Lenses
Unless you're in the eyewear industry (like us), your knowledge of picking the best shades probably means trying on a few pairs from the rack at the store until you find a pair that looks great. 
We agree that style is important, but safety is also important. When shopping for UV lenses, look for these key features:
Natural UV-blocking lens material. Some lens material, like polycarbonate, is naturally UV-blocking. That means it blocks the sun's damaging rays without an external coating applied to the glasses. External coatings will eventually break down and need replacing. 
Make sure that the sunglasses you purchase actually have UV protection. Don't be fooled, there are a lot of eyewear companies that produce heavily tinted glasses with zero UV protection. Sure, the shade will help you see better, but not long term. 
While you're at it, consider leveling up your eyewear protection by grabbing a few other safety features that will make your life easier (and keep your eyes happy).
Other Great Features
UV protection is great for your eyes, but do you even know about blue light? Of course, you do — because it's been trending for a few years now. You probably already know blue light comes from your favorite devices, but the primary source is the sun. To keep your eyes safe from blue light and UV rays, you need UV-protective, blue light-blocking eyewear. 
Another great add-on? Anti-fog coating. Foggy lenses are a pain in the shade, and no amount of fog-free wipes can keep fog away. The best options are fog-free lenses, which have been pretreated with anti-fogging compounds, so the lenses resist fogging even when things get really steamy. 
While you're loading up on essential eye benefits, you'd do yourself a huge favor by adding the protection of polycarbonate frames. Polycarbonate lenses and frames are shatterproof, which means they can take a hit and resist breaking. Kick up a rock with the lawnmower? Your eyes are safe. Dealing with a combative patient in the emergency room? Your eyes are protected. 
Where can you find all these features wrapped up in one pair of seriously stylish specs? Stoggles of course. 
Stoggles: Sun Protective, Polarized, and Posh
Keeping your eyes safe and your style impeccable is what we do. We offer eyewear that is:
ANSI Z87.1-2020 certified. That means your eyewear is durable, shatterproof, and tested against high velocity. 
Anti-fog coated
Blue light blocking
Made from polycarbonate, which is naturally UV blocking
Side and top shield tough, to give your eyes all-around 360º protection 
The best part? If you want polarized and tinted, we've got you covered. It's never been easier to get the eyewear you need in a style you love. From cat eye to aviator, square to round, we've got frames that fit every face perfectly while offering the highest level of protection. 
Sun Safe 365
Your eyes require sun safety just like your skin, and Stoggles give you the ability to protect your eyes every day of the year with naturally UV-blocking polycarbonate lenses available in either crystal clear or shaded and polarized. 
Stoggles makes it possible for you to never compromise form for function or the other way around. Have your protection and your style too. Stoggles is your solution for stylish, protective eyewear. 
Sources:
What Toll Is the Sun Taking on Your Eyes? | Keck Medicine of USC
Protecting your eyes from the sun's UV light | NEI.NIH.gov
What is Photokeratitis — Including Snow Blindness? | American Academy of Ophthalmology
Tips for Choosing the Best Sunglasses | American Academy of Ophthalmology