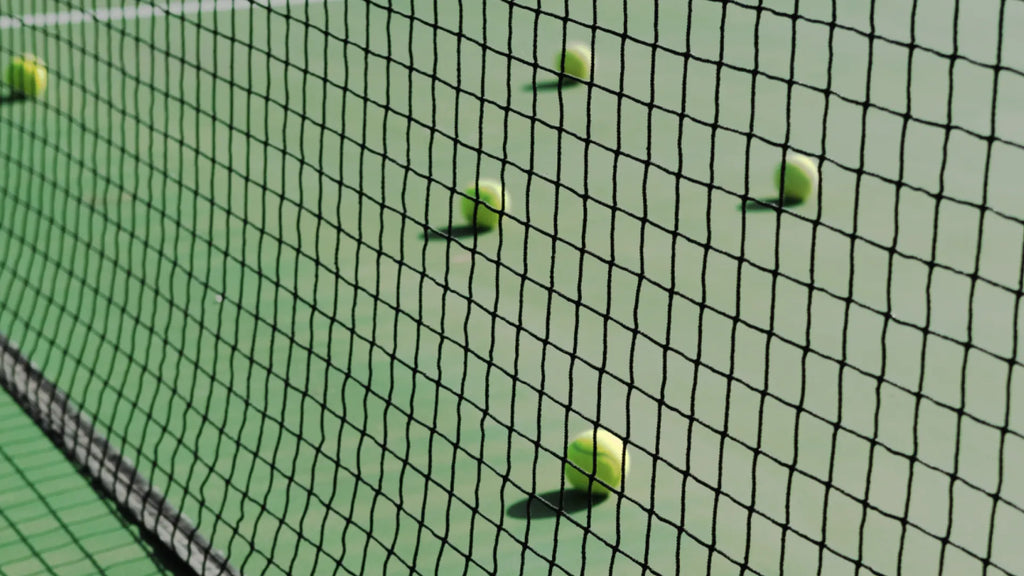 It's your passion. Your favorite pastime. You spend more time on the courts than you do in your own home, and you didn't suffer through seasons of tennis elbow perfecting your forehand to let your game be ruined by the inability to see clearly while you're playing. 
At Stoggles, we're committed to having fun, feeling comfy, staying safe, and looking good. If you wear corrective lenses, you might find it hard to get comfortable during a match. We'll explain why investing in prescription sports specs is important and give you some tips on how to pick the perfect pair. 
Why You Need Prescription Sports Eyewear
If you wear prescription eyewear, you know it's virtually impossible to see clearly when you aren't wearing your specs. Unfortunately, wearing your everyday specs on the court is a solid no. Between the sun, sweat, and your ultra-powerful backhand, there's no way they're staying on your face. 
Wearing contact lenses is, of course, an option, but it might not be the perfect solution for everyone. Losing a contact lens (if you have to remove one) could mean the end of the game. Plus, you'll still need to remember to wear protective eyewear to keep your eyes safe from the looming hazards on the court. 
Not aware of those hazards? We've got you covered. Let us serve you the facts about the eye dangers you'll face every time you play. 
Dangers During Doubles
There are external stressors that can damage your eyes and possibly even cost you your vision. Even if you wear contacts, you still need safety eyewear for protection. 
The Sun
Ultraviolet rays are dangerous for your skin, and you probably make sure that your skin is well-covered and lubed up with sunscreen every time you play. But what about those fabulous eyeballs of yours?
The sun is also dangerous for your eyes. The sun ages the eyes like the skin, putting you at risk of developing age-related eye conditions faster than you normally would. 
Both UVA rays and UVB rays can bypass the cornea and reach the retina. This can lead to early-onset cataracts, macular degeneration, and uncomfortable corneal burns that take several weeks to heal. During that time, you'll definitely be out of play. 
Blue Light
While we're talking light, let's talk about blue light. Blue light is emitted from the sun, but it also comes from your smartphone, which you might be using to take pictures, watch tutorials, or even keep score. 
Blue light, like UVA and UVB rays, can pass right through the cornea and reach the retina. Long term, we aren't yet sure what the effects of blue light might be. Short term, we know it can contribute to eye strain and fatigue and also interfere with your sleep schedule. Not a good way to set yourself up for another day of gameplay. 
Rogue Balls
Aces or lobs, there are balls flying everywhere. Sure, they're small and partially soft, but you've probably taken enough tennis balls to the side and hip to know they can be painful and leave a big bruise. 
If a ball hits your face, you could risk blunt force trauma to your eye, which at best, will cause you to probably miss the rest of your game and, at worst, could cost you your vision. 
Think it won't happen to you? Statistics say otherwise. In fact, there are over 600,000 sports-related eye injuries that occur every year. About 30% of those result in trips to the emergency room, and an even larger portion results in injuries so severe you're out of work (and tennis). 
Allergens
Every spring, it happens. You finally reach a set point, and you suddenly feel congested and itchy. Your eyes begin to itch and water, and you find it practically impossible to focus on your serve. Blame it on allergies, but your opponent probably won't take mercy on you. 
Seasonal allergies can be a serious issue for players of every type of outdoor sport, including tennis. If they're severe enough, they can drive you right back indoors. Safety eyewear can help keep some of that wind/pollen/nature yuck out of your vision so you can focus on the yellow dot that really matters — the tennis ball, not that giant ball of pollen floating right at you.
Solutions That Keep You in the Game
Obviously, there are risks, but you can't go without your vision correction. That means you need prescription glasses for tennis that are comfortable, protective, and functional. Matching your tennis clothing? That would be a serious bonus. 
Thankfully, at Stoggles, we have the solutions to keep you protected, comfy, and aesthetically amazing. 
Shatter Resistance
The next time you play with someone who "has played pickleball for a while," protect yourself from their rogue shots by gearing up with Stoggles. Every pair of Stoggles is tested to meet ANSI Z87.1-2020 standards. 
Think your tests in school were stressful? Our safety specs have to pass the high-velocity test:
High velocity. Protection against powerful backspins? Got it. This test involves firing a ball bearing at high speeds directly at the lenses of the eyewear to ensure they resist shattering. 
You might be playing with a couple of hotheads, but your eyes (and your superior athleticism) will always be protected.
UV Protection
Even if it's cloudy, protecting your eyes against ultraviolet radiation is a must. Stoggles make it easy. Our ultra-lightweight frames and lenses are made with a polycarbonate material that is naturally UV-blocking. 
Pro tip: The tint of your eyewear does not correlate to their level of vision protection. Even if you're wearing the darkest pair of shades, UV rays may be able to penetrate, especially if your eyewear is old or compromised. If learning this made you nervous, read on for a better solution! 
Anti-Fog
Steamy days can make it impossible to keep any type of eyewear strapped to your face. Fogging lenses are a hassle and can result in using up your only time out. Not to mention, it's not safe to remove your glasses to wipe them down because you're putting your eyes at risk of the very dangers the glasses are there to protect. 
Stoggles are created with anti-fog coating that is overlaid onto the lenses at the time of manufacturing. This offers long-lasting fog resistance that ensures you won't miss a serve because of fogging eyewear.
Blue Light Blocking
Keeping your eyes safe from blue light isn't something we take light-ly. See what we did there? 
That's why we inject blue light-blocking material into the lenses of our eyewear to filter out harmful blue light, whether you're playing indoors or outdoors. 
Side and Top Shields
Safety eyewear has a duty; to protect while you serve (chuckle). Your regular eyewear leaves your eyes vulnerable in important places, like the space between your glasses and your eyebrows and the space across each temple. 
Top and side shields keep these areas safe with a streamlined, low-profile design that also works well for prescription lens wearers. If you choose to use a wraparound lens shape, there's a chance the wraparound feature could interfere with your prescription, causing it to look funky when you attempt to access your peripheral vision. On top of that, they might make you look like you're ready to play the wrong sport, since wraparounds are a hot item for aerodynamic sports like cycling.
But I Need Sunglasses
You need protection, vision correction, and a little shade when it gets bright outside. Stoggles Dimmers™ are the solution. Dimmers have all the same great features as the OG Stoggles, but with a special superpower: they have UV-responsive lenses. 
These lenses work like traditional light responsive lenses, darkening to the perfect tint when you are exposed to bright light and returning to their crystal clear state when the light goes away. If you're playing during a partly cloudy day, this means never having to continually remove and replace your sunglasses. Stoggles Dimmers does the work for you automatically — and our eyes do such a great job of adjusting that you won't feel a thing. It's a seamless experience. 
What About Prescription Stoggles?
We do those too. It can be expensive and inconvenient to get prescription sports specs from your optician. Instead, simply take your prescription over to our website. Upload it, and we'll do the rest. We'll send you a fully customized pair of Stoggles that not only help you see better but keep your eyes safe at the same time. 
Eyewear You'll Want To Wear
Let's be honest. Safety eyewear hasn't always been at the forefront of fashion until now. At Stoggles, we saw a gap in the market. People needed safety eyewear, but the options for style were extremely limited. We fixed the problem. 
By offering numerous different frame shapes (like aviator and cat-eye) and multiple different colors, you can create a look that is completely you. Pick a pair to match your favorite tennis outfits. Maybe you end up on the wrong side of 2-love, but you'll still look like a million bucks. 
Our One Love: Stoggles
We think you should play hard and protect harder. It's why we offer Stoggles that fit so comfortably and look so good. If you love your eyewear, you'll wear it, and that's kind of the point of eye protection. 
The next time you head out for a game, grab your Stoggles and be confident you'll be able to see clearly and stay safe. 
Sources:
Photokeratitis: Treatment, Healing Time, Causes, Symptoms & Prevention | Cleveland Clinic
Sports related ocular injuries | PMC
Eye Allergies | Causes, Symptoms & Treatment | ACAAI Public Website
ANSI/ISEA Z87.1-2020: Current Standard for Safety Glasses | ANSI