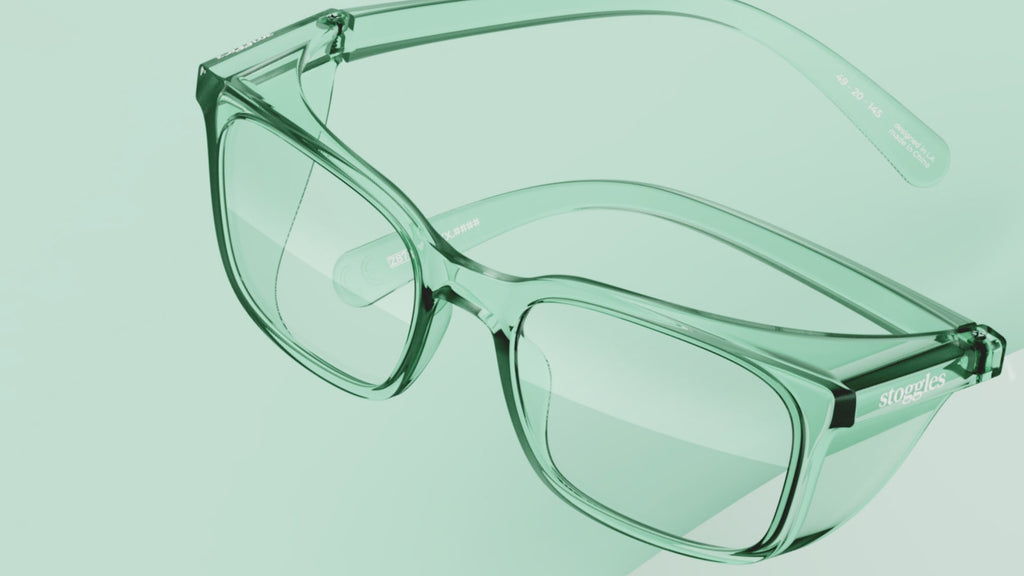 Bored at your desk? Contemplating why your glasses continually slip forward when you look down at your phone? We thought so. Friend, you're in the right place. In this informational article, we'll cover how to get the perfect fit so that you never experience eyeglass slippage again. 
While we're at it, the team here at Stoggles (because that's where you've landed in your internet search) will drop some serious knowledge about eye safety that you probably haven't considered. 
In just five minutes of reading, you'll be able to fit glasses better than an optician and dole out unrequested safety tips to your unsuspecting friends. Let's get started.
Bridging the Gap
The reason why your glasses continually slip down, or conversely, the reason why they feel like they are squeezing your nasal cavities closed, is because the bridge on your particular frame size isn't properly fitted. Unlike over-the-counter readers or sunglasses, daily eyewear should be fitted by several measurements, including a bridge measurement and the right lens height.
The bridge width is the distance between one lens (inside of the frame) to the other lens inside the rim. When you look at the inside of your eyeglass frames, you'll see three numbers:
Eye size number. This is the number that represents the width of your lenses.
Bridge size number. This number is the measurement that determines the bridge (the distance between the two nose pads).
Temple length number. This is the length of the arms of your glasses that sit on your ears.
Every pair of custom-fitted glasses should have these frame measurement numbers somewhere on the frame, making it easy for you to get a good fit if you need to replace them. 
Units of Measure
Eyeglass measurements are measured in millimeters. Most bridge sizes measure between 14mm and 24mm, but you can find specialty sizes if you need them. If you have a low bridge measurement, you will typically need a pair of frames that has a bridge measurement of 16-18. High bridge measurements are between 19-21. 
Measuring Your Bridge 
If you haven't visited your optometrist or optician in a while and want to order a new pair of eyeglasses without a proper fitting, you can measure your bridge width at home. Start by getting a mirror and a camera. 
Using the mirror to help you, take an Instagram-worthy selfie of your side profile and observe the position of the bridge of your nose. 
If the bridge of your nose is closer to your cheekbones, you have a low bridge. 
If the bridge of your nose is further from your cheekbones, you have a high bridge.
Next, you'll want to consider the position of your nose. If you have a high bridge, glasses frames with a high bridge close to the brow line may be more comfortable than a lower bridge fit. 
Conversely, if you have a low bridge, you'll probably find that frames with a lower bridge or curved bridge fit better and slip down less. If you still have issues, you can try prescription glasses with adjustable nose pads to help ease pressure and give you a more custom fit.
What About Those Other Measurements?
To get the perfect pair of glasses, you need all three measurements. An optician can fit you best, but you can hack the system by using the above method for finding your bridge width and the hacks below to find the eye size number and temple length. 
Eye Size 
To measure your eye size, you'll be measuring the distance between one temple to the other. Standing in front of a mirror, hold a ruler in line with the inside of the temples. Convert the inches to millimeters by multiplying the number by 25.4 (or just using a free unit converter online). 
Add this to the bridge width, and you'll have the frame width or eye size. 
Temple Length
There are standard sizes for the arm lengths of your eyeglasses based on your temple width. You'll take the temple width (the total width measurement that includes your bridge width) as a guide to determine which standard arm length you'll need. 
Temple widths that measure 129mm or less should choose an arm length between 135mm-140mm.
For temple widths that measure 130mm-139mm, arm lengths between 140mm and 145mm are perfect. 
If you have a particularly wide temple width (larger than 139mm), you'll need a temple arm length of 150mm or higher. 
Finding the right frames on your own can be difficult. Armed with your prescription, an optician can help you find the perfect glasses based on your measurements, your face shape, and even your favorite frame styles. 
What About Safety Eyewear?
Glad you asked because that's kind of our thing here at Stoggles. If you've never worn safety eyewear or don't think you need them, think again. 
Each day, more than 2,000 workers in the U.S. sustain eye-related injuries. Experts say that 90% of these injuries are completely preventable simply by wearing protective eyewear. If you wear corrective lenses, you aren't excluded. Regular eyeglasses aren't designed to protect you like safety eyewear is. 
Here's what proper safety eyewear can do for you:
Won't Break Up With You and Leave You Injured
Unlike your wretched ex, safety eyewear is designed to protect your heart-er-eyes from injury. In fact, Stoggles eyewear is all ANSI Z87.1-2020 certified, which means it won't shatter from impact. 
Besides that the metal pellet test won't make them break, perhaps the side and top shields are what take the cake (yes, that rhyme was intentional). The side and top shields are a critical safety feature that fully protects your eyes from flying debris or gross splashes and prevent you from accidentally touching your eye after cutting a ghost pepper.
But, unlike those geeky glasses from middle school, with Stoggles, you'll make the best-dressed list every time. We did the math: Function + Style = Stoggles. You don't have to compromise on either. 
Trusting your regular eyeglasses while you're working on a project, doing yard work, or playing a pick-up game can leave you with shards of glass in your eye if you take a hit to the face. Safety eyewear keeps your vision protected, no matter what comes your way. 
Protect You From Blue Light
Yep. You're exposed. You're looking at it right now. You probably get more blue light exposure than you realize because it is emitted from the sun and from devices like computers, tablets, smartphones, and televisions. 
Blue light can penetrate the eye and reach the retina, possibly causing vision damage and definitely causing eye strain and fatigue. Blue light-blocking lenses filter out blue light to keep your eyes safe. Blue light blockers do for your eyes what that fancy wrist pad does for your wrists after typing for eight hours a day.
Helps You Avoid Foggy Situations
If you are a regular glasses wearer, you understand the foggy frustration with lenses that won't stay clear. Anti-fog wipes may work temporarily, but for lasting results, you've got to have anti-fogging lenses. 
Stoggles eyewear, for instance, is treated with an anti-fogging solution that prevents our eyewear from fogging in even the stickiest of situations (because it's a coating, not a spray). From face masks to outdoor tasks, you'll never end up steamed over foggy lenses. 
Offers You Sun Protection
Ultraviolet radiation is damaging to your eyes. UVA and UVB rays can reach your retina and cause early onset macular degeneration, a condition that can rob you of your eyesight at an early age (we're talking 40s and 50s).
Wearing sunglasses can help because sunglasses usually offer UV protection. For cloudy days, however, you still need protection, and you need protection, too, when you are exposed to UV rays indoors.
Stoggles are made from polycarbonate material, which is crystal clear and naturally UV-blocking, so you can be protected without heavy tinting. While Stoggles don't come in tinted lenses, they'll protect you more than regular big box store sunglasses due to the material and the amount of coverage. 
Where To Shop
Stoggles, of course! We're the one-stop shop for safety eyewear that offers top-of-the-line protection with features that you can't find anywhere else. All Stoggles come standard with ANSI Z87.1-2020 certification, anti-fog lenses, and UV and blue light-blocking protection. 
Finally, we wrap it up in a stylish package with options that let you custom-build your protective eyewear. 
Side and Top Shield Technology
Unlike some safety glasses manufacturers, we avoid wraparound lenses. They don't keep the top of your eyes safe, and if you wear corrective lenses, they can warp your vision and deliver a weird, funhouse mirror effect. 
Instead, we use side and top shields to protect vulnerable areas around your eyes, keep your style fresh, and your vision normal. We really don't think warped vision and safety eyewear is a good match, so we're swiping left on that combination. 
Custom Fit
We believe that safety eyewear won't be effective if it isn't comfortable because if it isn't comfortable, you probably aren't going to wear it. And if you don't wear them (or take them off from time to time because of your glasses-based headache), your eyes are exposed to all sorts of threats — suspicious chemicals, allergies, rouge baseballs from your neighbor's kid. Basically, everything that makes us cry, and yes, that includes the effects of cutting onions.
That's why we offer several sizes and different frame shapes so you can have a customized fit for your head and aesthetic preferences. It's our way of saying you really can have it all. 
Measuring Your Safety
Learning to measure your face to get the perfect fit in your eyeglasses is definitely high-level adulting. Making sure you have safety eyewear to protect your vision is a level up. At Stoggles, we make it easy to get the custom fit you want, the style you love, and the protection you need. 
Sources:
Study Highlights the Need for Workplace Eye Safety Awareness | Johns Hopkins Medicine
Convert inches to mm | UnitConverters.net