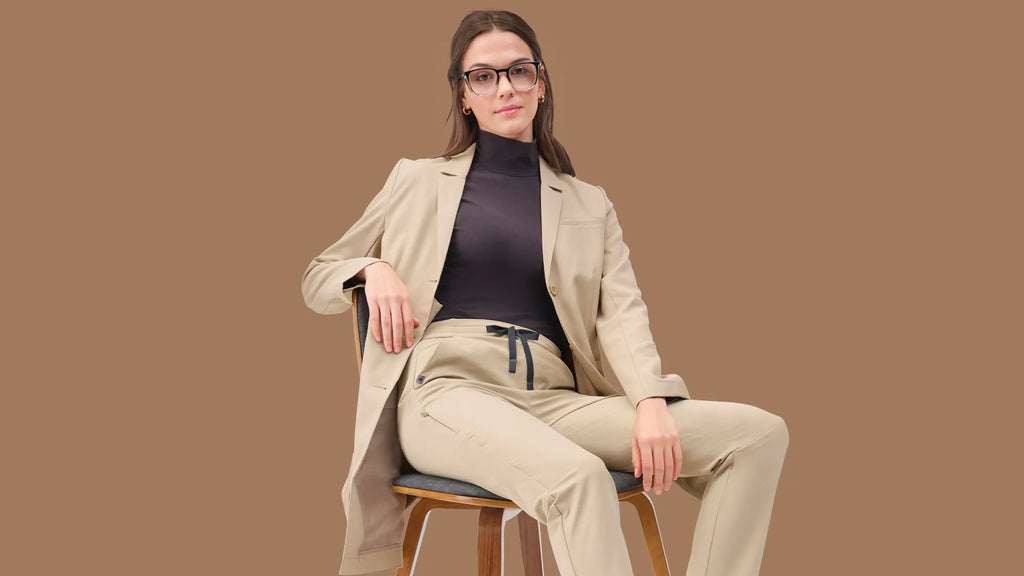 If you have a long face, you may have truly been blessed by the universe. Long faces, which are generally oval in shape, are considered some of the most aesthetically appealing. In fact, a quick Google search for "the best face shape" will immediately pull up pages from medspas and plastic surgeons eager to help create a face that looks longer and leaner. 
For people born with this face shape, it might be easy to take your stellar structure for granted. It might still be harder to decide on a pair of frames. Well, our oval-faced friends, we're here to help. 
The eyewear experts at Stoggles are also great at helping you decide which style of eyewear looks best. We'll cover the basics of long face anatomy and tell you which frame shapes will help balance your lengthy look.
Do I Have a Long Face Shape?
Maybe you've never considered what your face shape actually is. That's okay. We've written this helpful guide so you can figure out what face shape you have. Generally speaking, if you have a long face shape, you have a face that is longer than it is wide. That means you likely have more length in your mid-face. You may also have cheekbones that are less pronounced.
If you're still stumped, there's an app for that. Both Android and iPhone users can download apps that will help you determine your face shape and give your looks a boost of AI enhancement (if that's what you're into). What a time to be alive. 
Oval face shapes are often thought to be best for selecting frames because there's virtually no frame that doesn't look great on this type of face. That said, it can still be difficult for someone who has a long face shape to fully appreciate their gift, and even more difficult to find a great pair of glasses. 
How To Find Glasses for Long Face Shapes
We'll make this simple. 
Step 1. Find a manufacturer that makes high-quality frames and lenses. 
Step 2. Pick any frame that sparks joy in your soul. 
Seriously. If you have an oval or long face, the options are limitless. However, since we're guessing you wanted a little more hand-holding, we're happy to offer it. If you're satisfied with that two-step process, skip ahead to the next section. 
Round Glasses
Round glasses are hard to wear, especially if you have a round face. But you, friend, have an oval face. Round glasses can help add width to a long, narrow face, especially if they are a bit oversized. 
Pro tip: Don't go too small and round. You'll end up making your face look longer (and larger) than it actually is, and you might be confused with John Lennon. 
Square Glasses 
Looking to create a few angles? Look no further than square frames. Square frames are an excellent option for adding definition and structure to a long, oval face shape. Choose a dark frame color to add depth and accent lighter-colored eyes, or lighter frame shapes to highlight dark eyes.
Rectangle Glasses
Like squares, but longer! Rectangular frames can add width to your face, along with structure. Rimless or semi-rimless rectangle frames are options that provide balance and a barely visible aesthetic. If you want eyewear that looks great but also doesn't overpower your face, those are a good place to start. Rectangle glasses are sometimes considered the most versatile shape, as they break up any face shape and are often considered to have an academic look. 
Cat-Eye
Eye-conic? You betcha. Cat eye frames are the perfect combination of retro and right now, offering a hipster-like trend that also gives the look of lifted, sculpted cheekbones. If you choose cat-eye frames, avoid extreme lenses that point dramatically upward on the ends, as those can make your face look slightly longer. 
Aviator
They're not just for pilots or your favorite influencers. They're for everyone, and yes, for long faces too. 
Aviators are like a misshapen circle, with the majority of the width and bulk of the frame shape sitting on the midface. This can be a great solution adding balance to a long, narrow face and creating the illusion of fullness right across the cheeks. 
Now that you're well acquainted with the most popular shapes that work well for long faces, let's talk about the most popular safety features that work well for all eyes. 
How To Find Glasses That Mix Style and Safety
At Stoggles, we love a good match-up. Whether it's peanut butter and jelly, Batman and Robin, or a long face and a pair of aviator frames, we're always rooting for the next dynamic duo. 
One of our favorites? Safety and style exist harmoniously in all pairs of Stoggles' iconic eyewear. 
We believe that safety is important, but style is also important. Let's face it: If you don't love the way you look in your eyewear, you won't wear it, and that's unsafe for your eyes. 
Do I Really Need Safety Eyewear? 
You do — you just don't realize it. Here's the data. 
More than 2,000 people sustain an eye-related injury at work each day.
Half of all eye-related injuries happen at home (doing yard work, cleaning with chemicals, cooking, or engaging in recreational sports).
We rely on our vision more than we do any of our other senses. If we lose it, we lose much of our perception. Sure, your other senses will eventually pick up the slack, but is that really the journey you want? 
The good news is that experts agree that 90% of all eye-related injuries are preventable simply by wearing protective safety eyewear. We know that safety eyewear isn't usually at the top of anyone's list of most stylish eyewear, but that's all about to change. 
Meet Stoggles: Safety and Style Combined 
Conventional safety eyewear has a hyper-masculine and clunky look, because it was originally created for men. Whether men actually wanted that hyper-masculine style was never a concern. Now, all genders have stylistic options that still provide the same great level of safety you'd expect from the original issues. 
Protection from Light
Intrusive light can wreak havoc on your eyes. UV rays can prematurely age your eyes and lead to cataracts and early-onset macular degeneration. It can also be the source of eye irritations, like corneal burns or surfer's eyes. 
It's not just UV rays doing the damage, though. Blue light (also emitted from the sun) can also reach the retina. Blue light comes from other sources, like your computer, tablet, smartphone, and LED televisions. 
Stoggles are created from polycarbonate material, which is naturally UV-blocking. We also inject our lenses with blue light filtering compound when we make them, so your eyes are safe whether you're sporting aviators or round specs.
Protection from Shattering
Regular eyewear (like your reading glasses or sunglasses) aren't good options for yard work, sports, or a hazardous workplace Stoggles are ANSI Z87.1-2020 certified, which means they have been tested to standards that ensure they won't break or shatter when pelted with a rock from your lawnmower, or a nail from a nail gun. 
Side and Top Shields
Your eyes need all-around protection, and regular eyewear falls short across your temples and near your eyebrows. The Stoggles solution is top and side shields, which cover these vulnerable areas with a streamlined, comfortable aesthetic.
Another option for protection is wraparound lenses. However, if you have to wear prescription lenses, keep in mind that some wraparound lenses may interfere with your prescription and distort your vision. 
Anti-Fog
Put down the anti-fog wipes and grab some Stoggles. Stoggles are all dual-coated with anti-fogging compounds to ensure they resist fogging, whether you're stepping into a sauna or alligator-watching on a pontoon boat in the Everglades. We promise you'll never go back to your wipes or fog drops again. 
Prescription Friendly
Sometimes you need safety eyewear and vision correction. We do that too. Simply upload your prescription to our website, and we'll do the rest, carefully crafting a pair of stylish and sophisticated Stoggles that save your sight and sideline safety issues. How's that for super savvy safety alliteration? 
Polarized and Shaded
We really did think of everything when we created Stoggles, which is why we now offer some of our favorite shapes (including the ones that look great on long faces) in an option with polarized shaded lenses. 
Our polarized, shaded Stoggles keep your eyes safe from the sun, and from glare from reflective surfaces, you can see clearly and safely even in extreme conditions. 
The Long (and Short) of It
You've got the perfect face shape, adorn it with great frames from Stoggles. Our frames are stylish and available in numerous colors, so you can find the perfect match. Keep your eyes safe while styling yourself with the only safety eyewear that looks as good as it protects. Stoggles gives you style and safety you can love. 
Sources:
What is my face shape? How to determine your face shape once and for all|Today.com
90% of workplace eye injuries could be lessened or prevented with safety eyewear use | 2016-03-28 | ISHN
Eye Safety at Home: Preventing Eye Injuries - American Academy of Ophthalmology
Why Is There So Much More Research on Vision Than on Any Other Sensory Modality? - PMC